Digital Audio on a Shoestring!!
This session will examine how low-cost software/hardware can be utilized to develop chamber music quartet "music-minus-one" backgrounds. Using inexpensive and widely available sequencing/digital audio software (Cakewalk Home Studio, Freeverb) and an inexpensive computer microphone I will try to illustrate how a SATB recorder ensemble .wav file can be developed. and its value for teaching and performance.
What I am doing and you can also do with your PC:
Simply, I record one melodic part at a time to a track. Then, as I listen to the track in an earphone, I play/record another voice.
As I continue, I build four or more .wav files, one for each of the SATB ensemble parts. With these four parts available I mute out any one part to correspond with the part I wish to play on my recorder. Effectively, the other parts then serve as my music-minus-one background for the soloed part.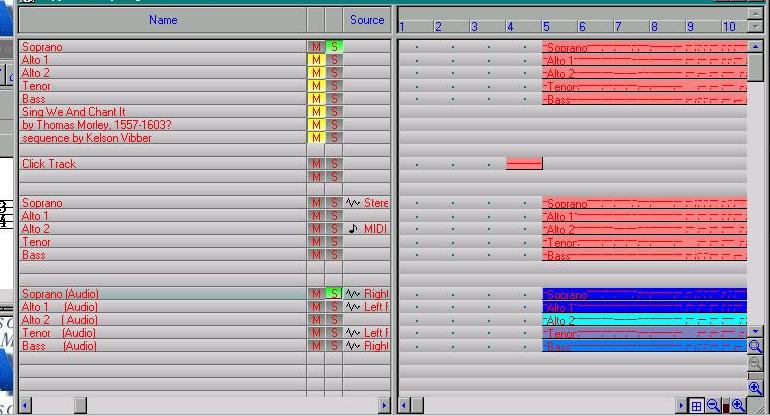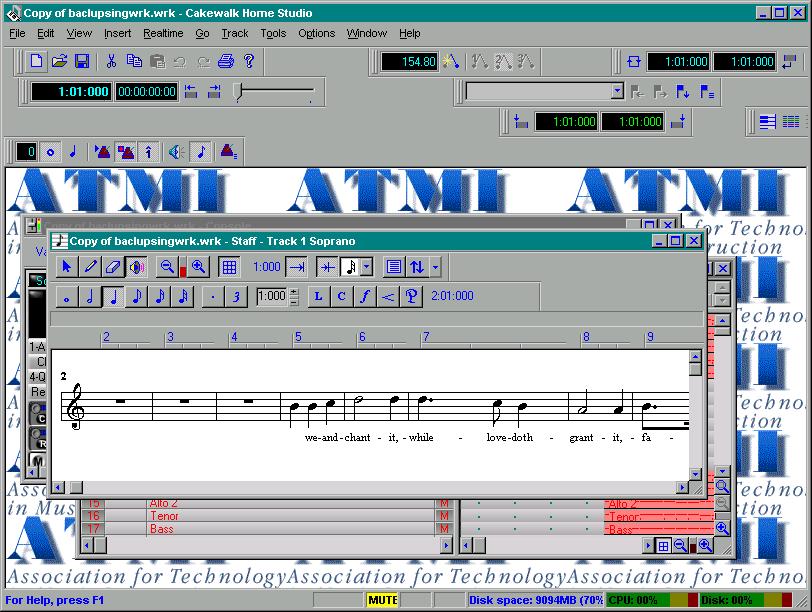 "Mixing" allows me to change volume levels of a specific part so that it will be in balance to the others should my recording of the part be slightly too loud. I then can record the final mix as a .wav file to be exported to my computer, or to be burned on a CD.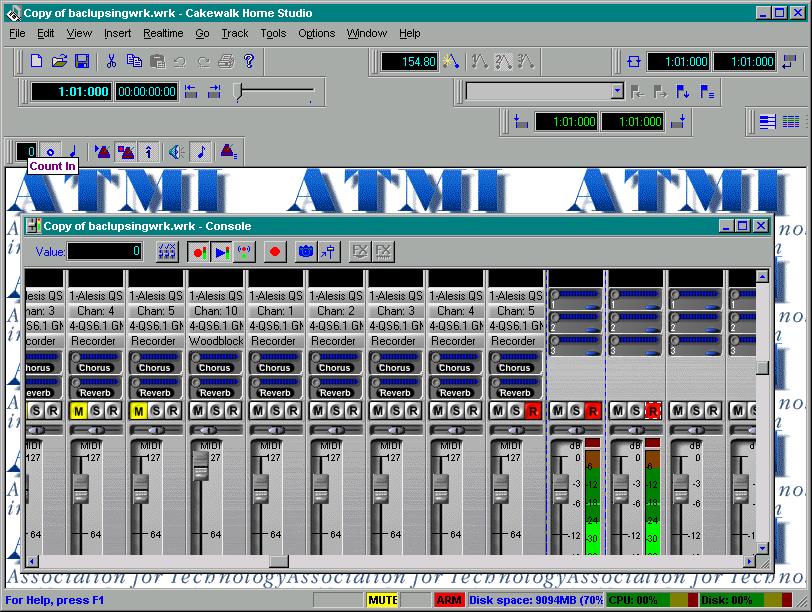 Musical Objectives and Benefits
1. Recording allows performer to hear his/her own sound and make evaluations on tone quality, articulation, and dynamics.
2. If performing with a MIDI entry of a specific part, an opportunity exists for intonation practice.
3. Ensemble attacks and note endings may be explored many times and the player can immediately hear mistakes and then record a correction if desired.
4. Working with, and developing MIDI background as accompaniment support allows the performer to learn MIDI sequencing as well as work with the audio editing and recording capabilities of software.
5. Orchestration and ensemble balance have to be addressed and this is another aspect that a person working with both MIDI and Audio can explore and study.
6. While the software and hardware utilized here is moderate in cost, all techniques utilized are the same as working within a large studio. Mixer, setting levels, mike placement, room acoustics, panning, digital audio effects, track bouncing, stereo, stretching audio, are all elements that can be considered and experienced without the need of a large studio and limited scheduled time.
7. Limitations of this focus include inability for sophisticated editing of the audio lines that would obviously be accessible with higher-echelon, dedicated audio software such as Cool Edit, Cool Edit Pro, Sound Forge XE, or newer 6.0 versions, ProTools, and other dedicated packages.
**For longer works, lack of higher-level software can become a hindrance as more discrete mistakes cannot quickly be edited out or sections rerecorded.**
However, on the plus side, this puts an onus on the player's performance alertness to make each cut as perfect as possible.
8. There are many dedicated software packages that address play with, and record in features for practice and teacher modeling.
Alfred includes Accent on Interactivity software for the Accent on Achievement Method Books. You can play along with MIDI accompaniments and vary them by muting the synth solo, click track, and then record a solo along with the accompaniment. The CD that provides the MIDI files and software also provides a softsynth for the computer the student uses.&nbsp Additionally, the tracks are recorded as audio files should a person wish to practice only with the CD.
DIGITAL MUSIC MENTOR
G. David Peters
| | |
| --- | --- |
| This program is a terrific addition to classroom and private instruction. The teacher records exercises/tunes that are to be studied. The student can then study away from class/lesson time by hearing how the piece is to sound and then recording their version of the piece. The teacher can then review and discuss possible problems and ways to better expand on musical ideas. Digital Music Mentor can be obtained from Electronic Courseware Systems. The ECS address is: http://www.ecsmedia.com/ | |
9. Another method for providing background accompaniment features changing the speed of a CD track for playing along with a composition at a reduced tempo but at the same pitch. The Amazing Slow Downer by Roni Music might be accessed and explored for its usage Roni Music at: http://www.ronimusic.com/ . You can change key, speed and pitch.
10. Explore the use of a plug in for Winamp 2 series. This allows both change in tempo and key of audio files. As it is a freebee it allows for accompaniments modification. CD Reader will allow Winamp to change CD files..(have NOT tried it yet!). The new Winamp 3 does not support this as yet. Probably will sometime in future. Other plugins available from Winamp. Access PaceMaker--Winamp version 1.2, and also visit a source which has additional interesting downloads. Or go to the URL listing for PaceMaker at:http://www.sunpoint.net/~oparviai/pacemaker/ .