Practical Tips
1. Organize the track view so that your audio tracks are in one group and MIDI in another. Sloppy organization can provide time consuming and lead to problems in editing.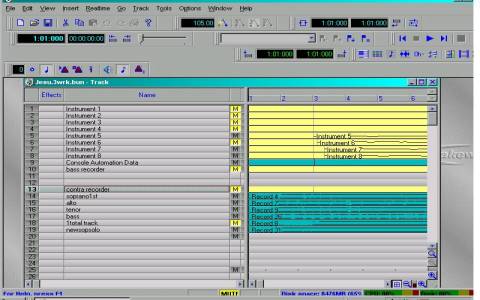 2. Your Console mixer window is where you can adjust balance of final output so no clipping will occur. It is good to set levels with your microphone before you start. Hit the Record Arm button and play in through the mic to see the mic input level. This window allows you to monitor your input devices with track-level meters.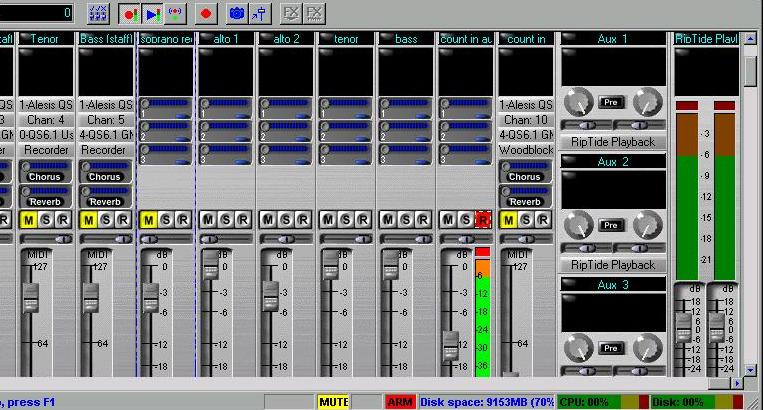 3. MIDI and Audio Combinations. Tip-- Enter your solo lines as MIDI tracks and then you can play the track and follow it as a notation model. This will help in providing a sound to follow for intonation purposes. A MIDI line recorded to will help with editing audio, as you can then edit audio from measure numbers instead of having to locate the initial audio event and track from the entry which can be very crude and take a lot of time.
4. Cakewalk features developing .wav files converted from MIDI tracks. You may playback your MIDI files in combination with the Audio recorded and then export to a final .wav file. This is very helpful as you do not have to export MIDI to an external analog device but rather can build your accompaniment file as a combination before exporting to .wav for burning on a CD or playing via computer.
5. Saving to .wav files using Home Studio: Click Tools/Mixdown Audio/Export to Files.