Technospecifia
1. In Cakewalk you can reduce the audio level of an audio track by typing in -1 or what reduction is needed in the velocity column. This is important as when you add or bounce additional tracks your audio files become louder and you can have distortion or clipping.
2. On a laptop without a line-in jack, you can bring your synth in through the microphone jack via a Y connector. Your synth will then record a track that is mono (right channel). If you wish to record stereo in this mode you must record to a right or left .wav track...set an envelope to right or left, and then bounce to tracks in stereo mode. You will have to reduce the db level of this final stereo track either in the mixer mode or by editing the track as you can go over O db resulting in distortion or clipping.
THIS IS BOTHERSOME AS you have to record each track in L or R mode and then do the bouncing. With Cakewalk Home Studio 9 you only have 8 audio tracks. CHS 2002 has unlimited ones. As you keep developing tracks your db and distortion levels can increase and you must compensate either in the mixer windows, or, by editing the tracks via DSP techniques.
USB connectors such as the USB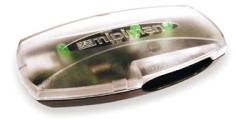 MIDISPORT 1x1 by M-Audio
Creative Labs Sound Blaster Extigy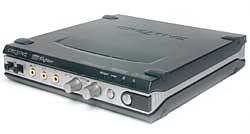 and the UA-1A USB by Edirol eliminate this problem and allow external synthesizers to be connected to your laptop. The UA-1A USB Analog audio Capture card is excellent for connection and goes for $99. It is simple and small. Easily converts analog signal into digital data and send it to your computer to be recorded. USB connection supplies power as well as data.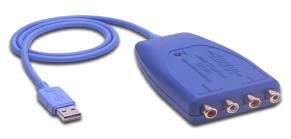 UA-1A USB Analog Audio Capture Card
This allows analog to digital connections quickly through the USB port. This is very important for use with a laptop.
A new entry is MIDI UNO from M-Audio for connecting the synth to the computer through USB. Very helpful for laptops.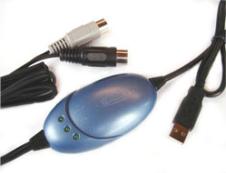 3. You can bring your synth in through the microphone jack with the mic boost off. I use a level of Unity (10) on my master volume mixer for my synth with a synth volume level of about 10 (1-10 range). Doing this should be OK with laptops without a LINE IN connection which allows the synth to enter via L and R modes. You must use a TRS to TS jack from your synth so that BOTH the L & R signals are placed into the computer for reception. Obviously using the USB connections mentioned above simply the process immeasurably for about $100.
4. As you record Cakewalk .bun files, Cakewalk saves a back up in its folder. At the end of the session you can clean out files that are saved and not required in the program by clicking on Tools/Clean Audio disk and unwanted files are deleted.
Or you can go to C /Program Files/ Cakewalk/ Cakewalk Home Studio/ Picture Cache/ & Wave data/ and delete files that are located therein.
5. I can keep this Cakewalk file (.bun) on my computer, or I can export as a .wav file. The export can be again any one, combination of, or all of the four SATB audio-tracks created. Thus, I can develop a .wav file background for any missing recorder part. Taking this a step further I can then record any or all of the .wav files created to a CD so that I can use them without the computer for practice or performance.
6. You can add a MIDI file with background to the SATB recorder files. For my example, I am using Jesu Joy of Man's Desiring for my composition, and adding string MIDI background. If I wish I can then perform the descant on my soprano played over the recorder SATB ensemble and MIDI background.